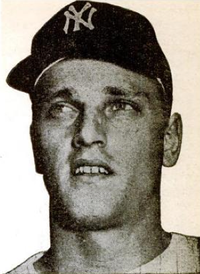 Roger Eugene Maris
(September 10, 1934 – December 14, 1985) was an American
baseball
right fielder
who played 12 seasons in
Major League Baseball
(MLB) on four teams, from 1957 through 1968. Maris hit a record 61
home runs
during the
1961 season
for the
New York Yankees
, breaking
Babe Ruth
's single-season record of 60 home runs in 1927. Maris' record stood for the next 37 years.
Maris appeared in seven World Series games. He was a two-time American League (AL) Most Valuable Player (MVP) (1960–1961), seven-time All-Star (1959–62), and an AL Gold Glove winner in 1960. His accomplishment of 61 home runs in a season, which was greatly debated in its own time, came back to the forefront in 1998, when the record was broken by both Mark McGwire and Sammy Sosa. On September 24, 2011, the 50th anniversary of Maris' home run record was celebrated in Yankee Stadium.
Early life
Roger Maris was the son of Croatian immigrants.[1][2] He was born Roger Eugene Maras[3][4](he later changed his last name to Maris) in Hibbing, Minnesota. He grew up in Grand Forks and Fargo, North Dakota, where he attended Shanley High School. Maris, a gifted athlete, participated in many sports while in Fargo, and excelled at football and still holds the official high school record for most kickoff return touchdowns in a game, with four.[5]
Maris exhibited an independent, no-nonsense personality at an early age. He was recruited to play football at the University of Oklahoma and spent less than one semester on campus. Maris returned to Fargo and signed a minor-league baseball contract with the Cleveland Indians.