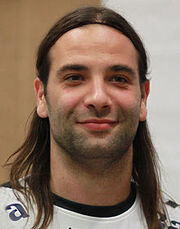 Ivano Blic is a champion Croatian handball player. He was born in
Split, Croatia
. His position is Middle back. In 2010, he was voted world's best male handball player. He was chosen 6 times in a row for most valubale player in major international competitions.
Before playing handball Balić trained with the basketball club KK Split. He began his handball career with RK Split. Balić was a member of the Croatian national team that won the 2003 World Men's Handball Championship in Portugal. He won a gold medal at the 2004 Summer Olympics and silver at the 2005 World Championship in Tunisia.
Balić was declared the IHF World Player of the Year in 2003 and 2006[2] as well as the best player in Croatia 2003. After playing for RK Metković he moved to Portland San Antonio. At the 2006 European Championship in Switzerland he was declared the tournament MVP. Even though Croatia won the 5th place on the 2007 World Men's Handball Championship in Germany, he was declared the tournament's MVP. In the 2008 European Men's Handball Championship he was the equal top scorer with 44 goals as he led Croatia to a silver medal and was also voted to the All-Star Team of the tournament.