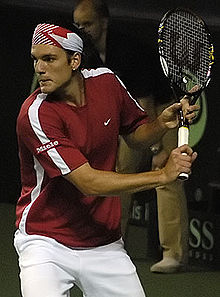 Frank Russell Dancevic (from Croatian Dančević) (born September 26, 1984) is a Canadian professional tennis player. He first became the country's top singles player, according to ATP rankings, on February 10, 2003, as an eighteen-year old, and remained so from January 30, 2006 until June 20, 2010. He is now Canada No. 3 in singles.
In August 2011, Dancevic became the first men's singles player ever to qualify, in the same calendar year, for all four grand slam events.
The right-handed Dancevic turned pro in 2003 and reached his career high singles ranking in September 2007 at World No. 65. A native of Niagara Falls, Ontario, he was the highest ranked men's Canadian singles player since Daniel Nestor, who was ranked World No. 61 in September 1999. (The highest ranking ever achieved by a Canadian is World No. 24, by Milos Raonic in February 2012.) It was Fred Niemeyer whom Dancevic overtook to become, in early 2006, Canada's top-ranked singles player.
Dancevic's best tournament results to date, all in singles, have been reaching the final of the 2007 Indianapolis Tennis Championships, the final of the 2009 AEGON International, the quarter-finals of the 2007 Rogers Cup, the semi-finals again in Indianapolis in 2009, the semi-finals of the 2008 Campbell's Hall of Fame Championships, and winning the 2003 and 2006 Granby and 2003 Lexington, 2006 Waikoloa, and 2008 Surbiton Challenger Series events. His best doubles result has been reaching the final of the 2007 Japan Open, partnering Stephen Huss and winning Granby in 2004 while playing with Brian Baker.
Dancevic became Canada's top ATP-ranked singles player on February 10, 2003, replacing Simon Larose. He held the position until May 19, 2003, when he was surpassed by Larose. Dancevic regained the Canada 1 ranking on July 28, 2003, replacing Fred Niemeyer, and held it until August 11. He would not be so ranked again, however, until the following June 14, when he held the position for the week, and again for the week beginning July 12, 2004. Dancevic next was Canada's top-ranked player on August 16, 2004, and remained so this time until July 18, 2005, when he was replaced again by Niemeyer. He regained the ranking once more, nevertheless, from August 1 to October 17, 2005, only to lose it once more to Niemeyer.
Dancevic was coached by former tour player Leo Lavalle from sometime in 2008 until June 2009, when he returned to former mentor and Canadian Davis Cup captain, Martin Laurendeau.[1] From May 2008 until hiring Lavalle, Dancevic worked with Frenchman Boris Vallejo