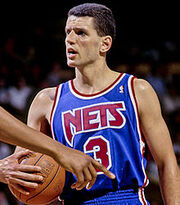 Dražen Petrović
(pronounced
[drǎʒɛn pɛ̌trɔʋit͡ɕ
]) (October 22, 1964 – June 7, 1993) was a
Yugoslav
and
Croatian
professional
basketball
player. A
shooting guard
, he initially achieved success playing professional basketball in Europe in the 1980s before joining the American
NBA
in 1989. Petrović died in a car accident at the age of 28.
A star on multiple stages, Petrović earned two silver medals and one bronze in Olympic basketball, a gold and a bronze in the FIBA World Championship, a gold and a bronze in the FIBA European Championship, earned six European Player of the Year awards (four Euroscar Awards, and was named Mr. Europa in basketball twice). In 1985 he received the Golden Badge award for best athlete of Yugoslavia.
Seeking a bigger arena after his career start in Europe, Petrović joined the National Basketball Association in 1989 as a member of the Portland Trail Blazers. After playing mostly off the bench that year, Petrović experienced a break-out following a trade to the New Jersey Nets. While starting for the Nets, he became one of the league's best shooting guards.
Petrović is considered the crucial part of the vanguard to the present-day mass influx of European players into the NBA.[1] Petrović's #3 was retired by the Nets in 1993 and in 2002, he was posthumously enshrined in the Naismith Memorial Basketball Hall of Fame.[2]